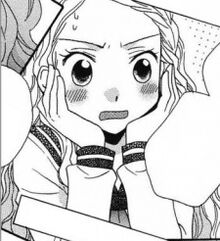 Chiharu Kuno (久野 千晴 Kuno Chiharu) is a good student who becomes friends with Mariko "Mari" Kumakura and Akiko "Akko" Oohashi in the 2nd year when Satoko "Sugi-san" Sugiyama and Tamami "Tamanin" Sekine ended up in different classes.
Trivia
[
]
The name Chiharu means "thousand" (千) (chi) and "clear weather" (晴) (haru).

Part of the name Haru can also mean "light, sun, male" (陽) and "spring" (春).

Chiharu's surname Kuno means "long time" (久) (ku) and "field, wilderness" (野) (no).

People call her "Kuno-chin"

Kuno hates sports, particularly the interpretive dances in which the students are forced to participate.
Kuno has an older boyfriend (her "prince") named Ouji whom she met at a mixer party and she is constantly preoccupied that she often mentions him while chatting.